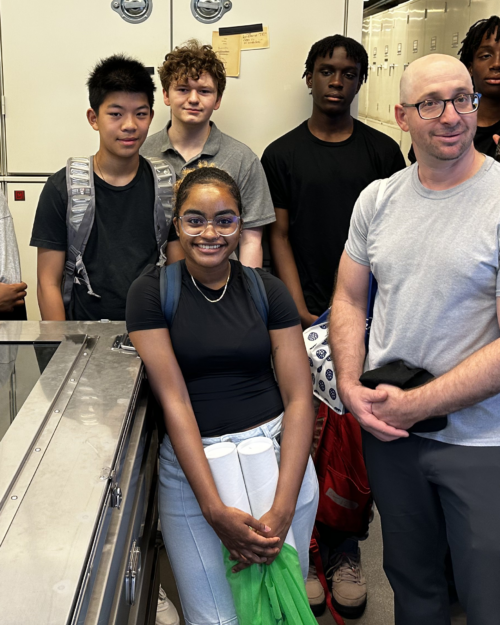 Meet Keidy Matos, a dedicated Ph.D. student studying chemistry at the Advanced Science Research Center (ASRC) in Manhattan, part of the City University of New York (CUNY). While Keidy is deeply immersed in her academic pursuits, she also plays a crucial role in AEOP's Apprenticeships program, where she mentors high school students. Her journey into the world of AEOP showcases her passion for nurturing young scientific minds and sharing her enthusiasm for chemistry.
What is your role within the apprenticeship program? 
I am a mentor to individual or small groups of high school students. I get to present my research and involve them in my work. The first week of the program involves the students shadowing me and learning about my specific area of work. Over the course of six to eight weeks, these students go through many different safety trainings, earn certifications and learn a myriad of skills. Afterward, they graduate to working on their own once I have prepared them for the advanced level of laboratory work.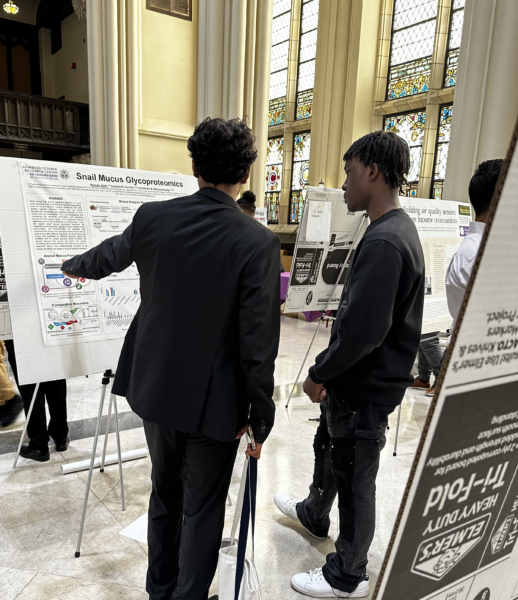 Through these weeks of collaboration and mentorship, my students and I conduct experiments and collect data. Once a week, we present a status update to Adam Braunschweig, our principal investigator. This is a great experience for the high schoolers I work with; getting to exist in a professional environment like this prepares them for the extremely detail oriented work that laboratory research entails.
When did you first get involved with AEOP, and what made you decide to participate in AEOP?
I first heard about AEOP through ASRC, my University's research laboratory. Adam Braunschweig has been doing AEOP for many years, and I was able to join his lab last year. This is my second year working with AEOP's apprenticeship program, and I get to select and onboard high school mentees, and then I work with them closely throughout the program. I'm also a teacher assistant in the graduate program, where I work with undergraduate students. I enjoy getting to build relationships with the students and work to make sure they value the opportunity they have to conduct this research.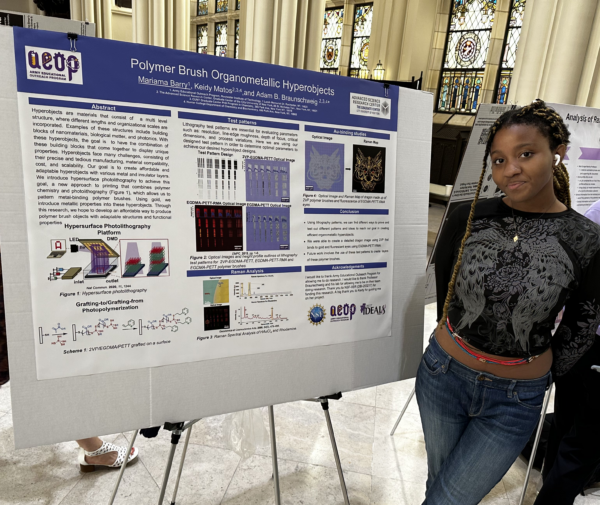 How has this apprenticeship experience supported you throughout your academic career?
A new skill I've learned is understanding how to mentor, how to be a teacher and how to be a guide. High school labs are different from CUNY's Advanced Science Research Center, and the expectations reflect that. I've learned how to successfully bring high schoolers into these advanced labs in ways that are not too daunting. Teenagers need engaging and innovative learning experiences, so I strive to find creative ways to keep them motivated throughout the program. Additionally, we organize activities during the week to make sure high schoolers are having a fun summer!
Can you share a specific moment or anecdote from your apprenticeship experience that has stood out to you?
The close connections I've created with students have been important to me. I was able to mentor two sisters, one last summer and one this year. It's encouraging to see how the older sister's positive experience during her mentorship last year inspired her sibling to follow in her footsteps. Their joint participation speaks volumes about the quality and impact of our program.
I also have students I worked with in the past who email me with updates or random thoughts – these connections are important! There was one student who I met as a high school senior who has since graduated and now is studying biochemistry as an undergraduate student. To see students take on a greater interest in both what we do and science in general is very important to me.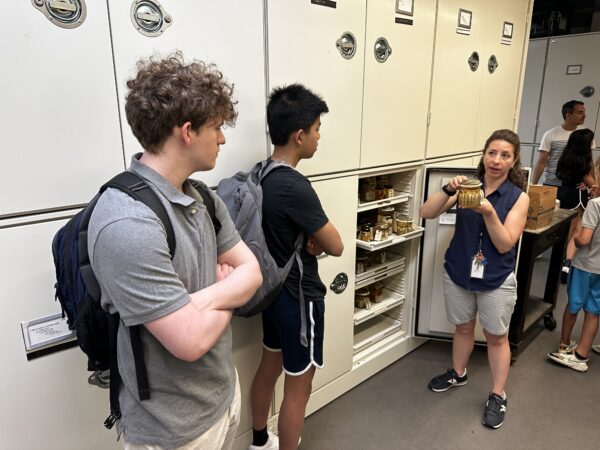 We had group lunches every Wednesday where mentees share their research updates with each other and have time to relax and bond. Having this built-in time was great to foster community among aspiring scientists.
To witness science in action, we took everyone on a trip to the American Museum of Natural History. The butterfly exhibit was a big hit! Not only that, but we had backstage access, which meant we got to see where they stored their specimens. The staff there explained the use of the specimens, and we were able to draw connections between this trip and our work in the lab. 
What advice or insights would you give to anyone considering participating in AEOP?
I say do it. It's totally worth it! It's not just that it gets yourself out there, but the AEOP apprenticeship program helps young minds have a better idea of what they want to do in the future. There are so many different science career paths, and being a mentor in this capacity means you can inspire someone to pursue a career in science themselves.
Learn more about AEOP High School and Undergraduate Apprenticeships here. 
Find a Volunteering Opportunity
Visit our Program Volunteers page for a tool to find the best opportunity for you.
eCYBERMISSION Grants
The eCYBERMISSION Mini-Grant is intended to support teachers/program leaders as they implement eCYBERMISSION with their teams. Educators (formal and informal) of students in grades 6-9 are encouraged to apply. Special consideration is given to Title 1 schools and to those with underserved/ under-represented populations.