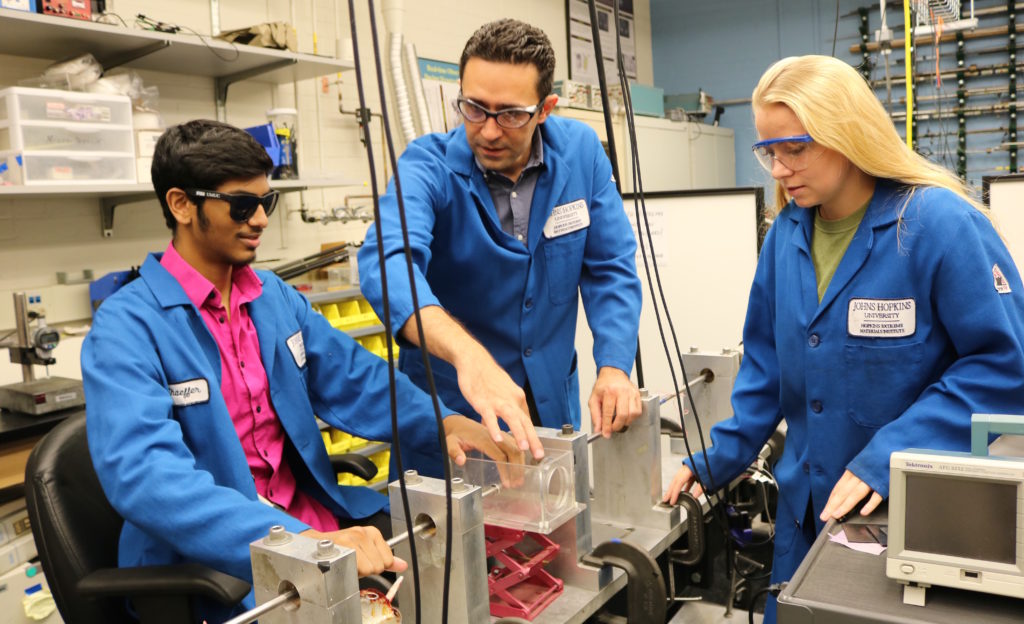 Shawn Abraham's visual impairment doesn't stop him from learning as much as he can. A junior at Eleanor Roosevelt High School in Greenbelt, MD, Abraham used his summer vacation to delve deeper into the world of science, technology, engineering and math (STEM).
Abraham, who is blind, completed over 200 hours of work at the Hopkins Extreme Materials Institute (HEMI) at Johns Hopkins University (JHU) as part of AEOP's Research & Engineering Apprenticeship Program (REAP), a summer program that places talented high school students from groups historically under represented and underserved in STEM into research apprenticeships.
Abraham and his REAP mentor, JHU postdoctoral Fellow Kavan Hazeli, Ph.D., had the idea to study different resin composites to substitute what is currently used in tooth cavity fillings, as the current composite attracts bacteria and therefore requires patients to replace fillings. While this was a new field to Abraham, he welcomed the challenge with enthusiasm. Along the way, he discovered a new interest in mechanical engineering. He explained that the ability to study hands-on how different materials behave was particularly meaningful because it is applicable to a real-world challenge. "This experience has exposed me to so many different fields and types of projects in engineering," said Abraham.
Abraham and Hazeli said creativity was key in their summer research. Over the course of six weeks, Hazeli came up with several creative ways to teach Abraham fundamental science and engineering principals by combining special kits and braille graphs. They wore gloves to feel different materials, and used the University of Maryland dental school laboratory for testing.
"I could only choose two applicants out of 44. Shawn's statement of purpose clearly indicated a desire to learn," said Hazeli. As a mechanical engineer, Hazeli believes it's important to make himself available to whomever is passionate about STEM and research.
Before his experience at HEMI, Abraham, who is also on his school's wrestling team, had some exposure to advanced science through his physics class, but shared that REAP taught him "so much more" and has played an important part in his desire to become an engineer.
Victor Nakano, Ph.D., HEMI executive program director, applauded both Abraham and Hazeli for their superb collaboration over the summer. "They each truly went the extra mile to make the most out of the apprenticeship."
For more information about AEOP's apprenticeship programs, go to www.usaeop.com/programs.
Find a Volunteering Opportunity
Visit our Program Volunteers page for a tool to find the best opportunity for you.
eCYBERMISSION Grants
The eCYBERMISSION Mini-Grant is intended to support teachers/program leaders as they implement eCYBERMISSION with their teams. Educators (formal and informal) of students in grades 6-9 are encouraged to apply. Special consideration is given to Title 1 schools and to those with underserved/ under-represented populations.