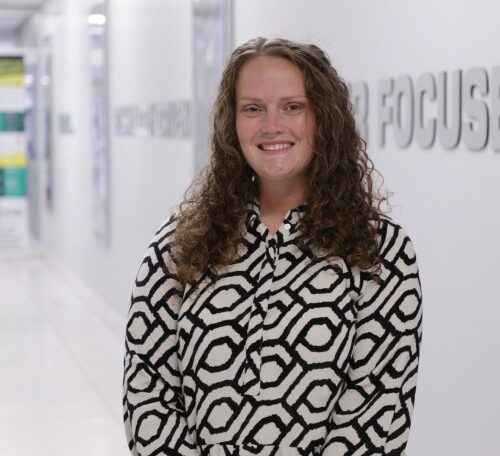 In the ever-evolving landscape of STEM education, the Army Educational Outreach Program (AEOP) has been at the forefront of engaging students in STEM through the immersive learning experiences that are AEOP Apprenticeships. One remarkable individual who has harnessed the power of STEM is Erin Hanners, AEOP Apprenticeship alumna and a Cyber Operations Analyst at Army Futures Command. With her expertise and dedication, Erin has made significant contributions to the field of cyber operations. 
We had the privilege of sitting down with Erin to gain insight into her experience as an AEOP Apprentice and how it has shaped her career. Join us as we delve into Erin's STEM journey and discover the invaluable lessons she learned along the way.
What were your biggest takeaways from your AEOP Apprenticeships?
I'm thankful I jumped at the opportunity to get into the AEOP Apprenticeship program because I gained so much workforce and real-world experience. My biggest takeaway is that students should take advantage of the excellent opportunities that come their way. The journey to your dream career is filled with challenges and many potential roads. But it is so detrimental to your growth and the beginning of your career to not take every opportunity. Jump in and do the work even if it's not a dream job – it is extremely important to be open-minded when new experiences come across your desk, because they can lead you to your dream in unexpected ways.
What was something new you learned during your AEOP Apprenticeships? 
Even though my answer is so cliché, it is so true that building relationships and maintaining a good reputation will take an employee far beyond being mediocre. The ability to connect and collaborate with others effectively has saved me when just skill and knowledge could not. Learning how to respond instead of reacting was one of the first professional skills I had the chance to hone. This is a vital social skill when it comes to maintaining excellent connections.
How did AEOP Apprenticeships help you prepare for your career as a cyber operations analyst?
The internship prepared me in every way for my permanent position. I learned how to write, communicate, socialize, provide customer service and troubleshoot technical issues. My transition to my current job has been seamless because my AEOP Apprenticeships gave me an incredible amount of experience.
What advice would you give to other students who are interested in participating in STEM apprenticeships, as well as AEOP Apprenticeships specifically?
Make sure your mentor sees that you're willing to learn and participate in every test, study, walkthrough, inspection and meeting that you can. Any information you're able to glean will aid you later in your career. Volunteer for the hard tasks and the action items no one else wants to do. Be a go-getter, and ask questions. A willingness to learn and be part of a team will show upper management that you're a star and a valuable asset.
What are some of the things that you learned about yourself during your apprenticeships?
I learned that I was too defensive when I was given constructive criticism for doing a task incorrectly. I realized that I needed to learn to respond rather than react. This skill allowed me to handle feedback and criticism more effectively, enabling me to remain respectful and courteous in challenging situations. These lessons have positively influenced my personal and professional growth as I continue to advance in my field.
What are your hopes and dreams for the future?
I would love to begin a third-party penetration testing operation to test the security measures and standards in place for companies in industry. While I acknowledge that there may be lots of hoops to jump through before realizing this dream, I remain motivated and committed to achieving this goal. I understand the importance of patience and persistence in pursuing long-term aspirations, and I'm excited about the possibilities that lie ahead.
What message would you like to share with other students who are interested in pursuing a career in STEM?
Students should absolutely pursue a career in STEM, because technology and innovation will always be around. Even though artificial intelligence is prevalent in our world today, nothing can replace the human brain. We need people to innovate, modernize and bring new ideas to the table. Your dedication to STEM will not only benefit organizations but also empower you to create a fulfilling and impactful professional journey.
Find a Volunteering Opportunity
Visit our Program Volunteers page for a tool to find the best opportunity for you.
eCYBERMISSION Grants
The eCYBERMISSION Mini-Grant is intended to support teachers/program leaders as they implement eCYBERMISSION with their teams. Educators (formal and informal) of students in grades 6-9 are encouraged to apply. Special consideration is given to Title 1 schools and to those with underserved/ under-represented populations.