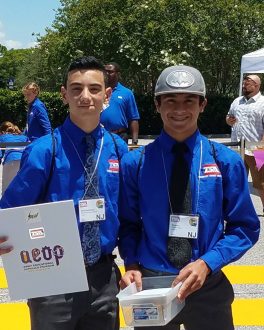 There's nothing quite like the thrill of watching the solar car you designed and built cross the finish line first. Take it from Charles Nino, a two-time Junior Solar Sprint (JSS) winner. A graduating senior at Roxbury High School in New Jersey, Charles first got involved with JSS when he was in seventh grade. After winning his local JSS competition two years in a row, Charles had the opportunity to compete in the national competition in Florida then in Tennessee. Fast forward to the present, he is committed to Penn State University where he plans to study mechanical engineering after being awarded a full ride through the Clark Scholarship.
"JSS and STEM have definitely guided me towards what I want to do in the future," said Charles. "Once I was introduced to the engineering field, it was the only thing that crossed my mind as a career choice. Even before I understood what STEM was all about, I knew that building, designing and creating anything to better the world around me was what I wanted to do. My experience in JSS gave me the confidence and knowledge I needed to succeed and helped open doors for me along the way."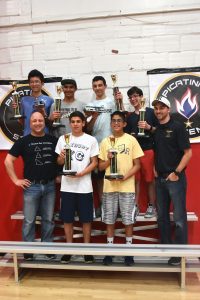 Phil Moskowitz, a STEM Teacher at Eisenhower Middle School in Roxbury, New Jersey, was Charles' teacher when he first got involved with JSS. Mr. Moskowitz attended Charles' competitions and considers it one of his favorite memories as a JSS volunteer and educator.
"That's probably the biggest feather in our cap," said Phil. "It's been really cool to watch him grow from that seventh grader to a graduating senior. During JSS competitions, he was one of the only kids who really took notes…he'd say, 'Hey, this is what other cars were doing' or 'this is what other displays were like' and then use that inspiration to rebuild for his next race the following year."
Shahram 'Shah' Dabiri, a JSS volunteer and STEM Manager for U.S. Army Combat Capabilities Development Command (CCDC), has worked with both Mr. Moskowitz and Charles through the JSS program. He sees the JSS competition as an important entry to the STEM field.
"Science, engineering, technology and mathematics are agnostic. It doesn't matter what your background is, where you come from or what your challenges are," said Shah. "If you've got the determination, you can find a way to make it work."
Charles has one last piece of advice for the next generation of JSS participants.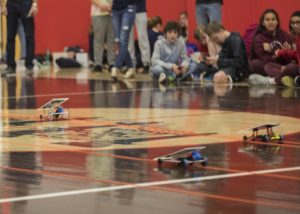 "Adjustments and failure are necessary tools to success. I did not win competitions because I knew the best designs or had some secret information. I won because I worked hard to get better. And still, now, I think about all the things I could've done differently to improve our design if I had known what I do now. Whether it is completely redesigning a car, which I did multiple times, or changing a part 2 minutes before the final run, there will always be room to improve. So keep on working and experimenting!"
AEOP's Junior Solar Sprint (JSS) is a competition for middle school students that challenges them to create an innovative solar-powered vehicle. Working closely with their teammates and teachers, students in 5th to 8th grade design, build and race solar-powered cars using hands-on STEM concepts. Learn more and get involved here.
Find a Volunteering Opportunity
Visit our Program Volunteers page for a tool to find the best opportunity for you.
eCYBERMISSION Grants
The eCYBERMISSION Mini-Grant is intended to support teachers/program leaders as they implement eCYBERMISSION with their teams. Educators (formal and informal) of students in grades 6-9 are encouraged to apply. Special consideration is given to Title 1 schools and to those with underserved/ under-represented populations.