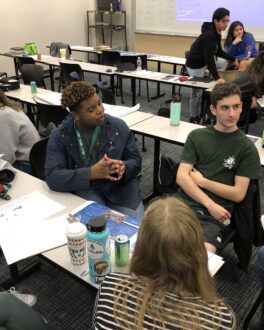 Meet Jack Wilds, a North Carolina State University freshman majoring in Physics and Math, Cameron Davis, a University of North Carolina at Chapel Hill freshman majoring in Biochemistry and vocal performance, and Colin Davis, a Columbia University freshman majoring in biochemistry on a pre-med track, all former AEOP Junior Science and Humanities Symposium (JSHS) alumni. 
Jack, Cameron, and Colin are a research team, and three best friends, from North Carolina who have always been passionate about STEM. Since high school, they have made it their mission to find extracurricular STEM programs and volunteer activities. However, something was missing: the opportunity to participate in more hands-on STEM projects where they could apply their knowledge. Brandon Stallard, their teacher, found the solution: AEOP. 
In 2017, Mr. Stallard signed up Jack, Cameron, and Colin for JSHS. During their first year, they focused on designing a hydroelectric turbine that could be used in  the plumbing in houses to generate electricity. They collected data and studied the physical processes the project would entail; a more theoretical approach. By their second year of JSHS, they were able to start building their design using an aluminum can turbine to measure electricity output. Their project won second place overall at the state competition. 
AEOP offered them the opportunity to participate in a more hands-on STEM experience compared to what they were learning inside the classroom which helped them forge a path in STEM. 
Through the North Carolina STEM Research Academy, established in 2018 by the Center for STEM Education at UNC Charlotte and the SMT Center Burroughs Wellcome Fund partnership, high school students engaged in STEM research can participate in more hands-on research experiences. This initiative aims to engage a more diverse student pipeline in rural school districts, where access to quality student research, mentors, and materials is often a challenge. 
The North Carolina STEM Research Academy offers students like Jack, Cameron, and Colin the opportunity to participate in AEOP JSHS program and gain more hands-on STEM experience. 
How did you come up with your research idea? After Hurricane Florence hit North Carolina, areas close to the coast experienced massive flooding and power outages for weeks. Initially, our idea was to collect electricity from stormwater drains. However, we soon realized that storm drains would only generate electricity during the rainy season or floods and decided to pivot to house plumbing systems. 
What was your favorite part of JSHS? It is hard to pick just one thing. We all agree that JSHS was a great networking opportunity, and it helped us improve our public speaking skills. 
We were able to attend conferences, events, and competitions to present our research and also had the opportunity to connect with science professionals and other students interested in STEM. Despite being best friends, JSHS taught us how to work together, be a team, and, most importantly, have FUN. 
Did JSHS and hands-on learning help you in the classroom? YES. We felt better prepared to tackle our schoolwork and confident enough to pursue new opportunities and continue sharpening our skills. 
JSHS has also helped us in our college classes. We are first-year students taking junior-level classes capable of writing research papers and conducting real lab research. JSHS also helped us develop time management skills, a great skill to have in college. 
What would you say to someone considering a path in STEM? STEM is a great way to help prepare you for higher education. No matter what field you choose to focus on, there will always be some form of research or data collection involved. The skills we learned in AEOP can be used for other subjects and can also help you be better in whatever you choose. 
What's your advice for high school students interested in AEOP programs? Simple, give AEOP a shot. Beyond the STEM skills you will gain, the life skills are insurmountable. We wouldn't be where we are if it weren't for AEOP. 
And, there is a really good chance you will make good friends that will last a lifetime. 
Jack, Cameron, and Colin are planning to pursue more research opportunities and possibly get the gang back together for a new research project. 
AEOP's Junior Science and Humanities Symposium (JSHS) is a tri-service program founded by the U.S. Army, Navy, and Air Force to encourage high school students to conduct original research in STEM fields. JSHS is administered by the National Science Teachers Association.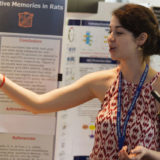 Junior Science and Humanities Symposium (JSHS)
At Junior Science and Humanities Symposium (JSHS), high school students compete for scholarships and recognition by present­ing results of their STEM projects to a panel of judges.
More About Junior Science and Humanities Symposium (JSHS)
Find a Volunteering Opportunity
Visit our Program Volunteers page for a tool to find the best opportunity for you.
eCYBERMISSION Grants
The eCYBERMISSION Mini-Grant is intended to support teachers/program leaders as they implement eCYBERMISSION with their teams. Educators (formal and informal) of students in grades 6-9 are encouraged to apply. Special consideration is given to Title 1 schools and to those with underserved/ under-represented populations.