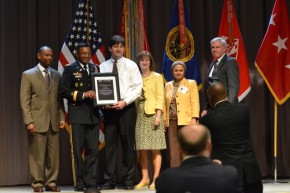 Student achievements in Science, Technology, Engineering and Mathematics (STEM) were recognized today at the 12th Annual eCYBERMISSION National Judging and Educational Event in Leesburg, Va.
The U.S. Army's eCYBERMISSION program is a web-based STEM competition, free for students in grades six through nine, in which teams compete for state, regional and national awards while working to solve problems in their communities.
Lt. Gen. Thomas P. Bostick, commanding general of the U.S. Army Corps of Engineers (USACE) and U.S. Army chief of engineers, congratulated participants while delivering the keynote address during the National Awards Luncheon.
Find a Volunteering Opportunity
Visit our Program Volunteers page for a tool to find the best opportunity for you.
eCYBERMISSION Grants
The eCYBERMISSION Mini-Grant is intended to support teachers/program leaders as they implement eCYBERMISSION with their teams. Educators (formal and informal) of students in grades 6-9 are encouraged to apply. Special consideration is given to Title 1 schools and to those with underserved/ under-represented populations.