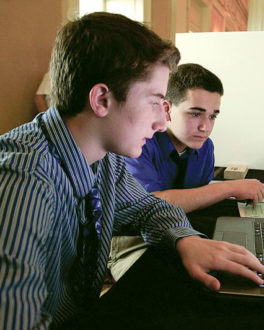 The AEOP Technical Symposia Travel Award is designed to encourage AEOP program participants and alumni to engage in scientific meetings/technical symposia to showcase their STEM research. Participation in scientific meetings/technical symposia will expand and enrich current AEOP students' educational experiences by interacting and networking with STEM professionals in the field, exploring a variety of STEM disciplines and careers, gaining experience in communicating their research accomplishments, and serving as AEOP ambassadors. Additionally, it will provide AEOP alumni to reconnect with AEOP, present their current research or research conducted while with AEOP at technical symposia.
Information for applicants
The AEOP Technical Symposia Award application is fully electronic. Read the information below, then start your application. We encourage all eligible AEOP participants and alumni who have a scholarly paper, poster, or other creative scholarly work that has been accepted for a professional conference to apply for a travel award.
Award Information
The travel award is for support to present your research at a professional technical symposia. The amount of the award is based on expenses incurred. Each award amount will be determined based on the expense summary you submit with your application. Funding will be disbursed in advance of travel date.
* Due to limits in funding, we do not typically fund travel outside North America.
Eligibility
Current and alumni AEOP participants in any of the programs within the AEOP portfolio who have a paper, poster, or other STEM-based research/scholarly work that has been accepted for national professional presentation may apply. Participants may apply to present their current research or research that they've conducted during their participation in AEOP.
Eligible Budget Expenses
Registration fees for conference or creative exhibition.
Travel fees: plane fares, train fares, car rental, ground transportation.
Lodging: up to, but not exceeding, the federal maximum per diem rate (

http://www.gsa.gov

).
Food: up to, but not exceeding, the federal per diem rate.
The award may NOT be used to cover individual membership dues for professional organizations or societies.
For minors under the age of 18, travel expenses (airfare, lodging, food) will be covered for the presenter and one parent/legal guardian.
Application Process
Applications are accepted and reviewed on a continuing basis and must be submitted, including a letter of recommendation from a faculty mentor or Department of Defense (DoD) mentor (scientist or engineer at DoD research lab or center) familiar with your research discipline, at least six weeks prior to departure date. Funds will be disbursed at least two weeks prior to travel date.
To receive a link to the online application, please contact your AEOP administrator.
PROGRAM NAME
PROGRAM LEAD

CONTACT INFORMATION

GEMS
Jarod Phillips

jphillips@nsta.org

CAMP INVENTION
Sue Whitsett

swhitsett@nsta.org

eCYBERMISSION
Erin Lester

elester@nsta.com

UNITE
Hillary Lee

hlee@tsaweb.org

JUNIOR SOLAR SPRINT
Sue King

sking@tsaweb.org

APPRENTICESHIPS
Pamela Hampton

phampton@aas-world.org

JUNIOR SCIENCE AND HUMANITIES SYMPOSIUM
Tine White

twhite@nsta.org
Selection Criteria
Selection criteria for these awards include: overall quality of the application and the importance of participation in the conference/venue to the applicant's long-term goals as articulated in the applicant's statement.
Requirements
Awardees are expected to submit a brief summary statement about their conference experience. Awardees are also expected to provide credits to AEOP in their presentation and promote the program where permissible.
If you have any questions, contact Dr. Stephanie Johnson at johnsonsa@battelle.org
Application Information
Please be prepared to include the following information in the CVENT application tool:
• First Name
• Last Name
• Email address
• Phone number
• Street address
• City
• State
• Zip
• If under 18, name of parent/guardian who will be traveling with you.
• Are you currently a student? Yes/No
• If yes, school name.
• If yes, year in school.
• Which AEOP did you participate in?
• Name of mentor
• Email address of mentor
• Letter of support from mentor (upload file)
• Name of conference you wish to attend with this award.
• Location of conference you wish to attend with this award.
• Dates you will attend conference you wish to attend with this award.
• Will you be presenting a paper, poster or an oral session?
• Abstract
• Title of paper, poster or presentation
• Names of co-presenters, if applicable
• In 200 words or less, please describe why attending this conference will help you achieve your professional and/or academic goals.
• Total amount of funds requested:
• Expense summary: Provide an estimate of expenses for presenter and parent/guardian, if applicable. Include airfare, lodging, per diem, ground transportation, and registration (for presenter only).
Find a Volunteering Opportunity
Visit our Program Volunteers page for a tool to find the best opportunity for you.
eCYBERMISSION Grants
The eCYBERMISSION Mini-Grant is intended to support teachers/program leaders as they implement eCYBERMISSION with their teams. Educators (formal and informal) of students in grades 6-9 are encouraged to apply. Special consideration is given to Title 1 schools and to those with underserved/ under-represented populations.