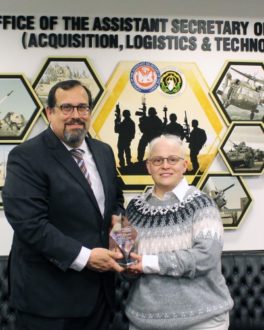 Brenda VanMil, Ph.D., spends most of her time as a research scientist at U.S. Army Research Laboratory in Adelphi, Maryland, working with crystalized semiconductors, growing crystals by individual atomic layers. Though she works with incredibly minute materials, this is, in fact, a very large job. Despite her responsibilities, Brenda spends time each year mentoring students participating in U.S. Army Educational Outreach Program (AEOP) apprenticeships, introducing students to new concepts and inspiring them to dig into STEM education.
In 2019, Brenda mentored multiple AEOP apprentices, including then-high school student Harun Gopal, who is now a freshman at the University of Maryland College Park pursuing a bachelor's degree in electrical engineering. According to Gopal, Brenda is an exceptional mentor and a patient leader. "Brenda was willing to go above and beyond for me," said Gopal of Brenda in his nomination packet. "Every question I asked got an answer. She prioritized my understanding of crucial concepts. Most importantly, she was approachable and a simple pleasure to be around. Brenda deserved more than a simple thank you card, So I nominated her for this award."
Read more about Brenda from this piece by the U.S. Army.
Find a Volunteering Opportunity
Visit our Program Volunteers page for a tool to find the best opportunity for you.
eCYBERMISSION Grants
The eCYBERMISSION Mini-Grant is intended to support teachers/program leaders as they implement eCYBERMISSION with their teams. Educators (formal and informal) of students in grades 6-9 are encouraged to apply. Special consideration is given to Title 1 schools and to those with underserved/ under-represented populations.