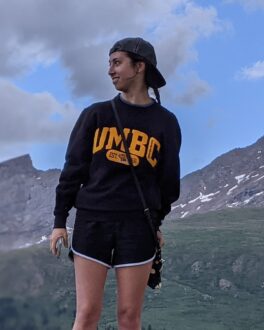 Meet Kaitlyn Szekerczes, a former AEOP undergraduate apprentice from the summer of 2021! Kaitlyn is from Northern Maryland and is currently a fourth-year student at the University of Maryland, Baltimore County (UMBC). Kaitlyn co-authored a published paper this fall in the Journal of Physics Communication, titled Electromagnetic vortex topologies from sparse circular arrays. 
As the child of military parents, Kaitlyn was interested in learning more about the various internship and research opportunities offered through the Department of Defense. After exploring the different  opportunities available, Kaitlyn found one that caught her interest, AEOP's Undergraduate Apprenticeship Program at The George Washington University (GWU), Department of Physics in Washington, D.C. 
Kaitlyn spent last summer working in a research lab alongside GWU physics professor Andrei Afanasev, a GWU graduate student and two high school students. The collaborative team worked on different projects that laddered up to  their one research goal. 
"It was awesome to be a puzzle piece of a bigger picture," said Kaitlyn. "It was a different kind of teamwork than I had experienced before, so it was very exciting to be a part of that."
The AEOP Undergraduate Apprenticeship gave Kaitlyn an opportunity to explore a field of research that was different from her astrophysics observational research at UMBC. 
"The AEOP Undergraduate Apprenticeship was exciting, because the research was in a different field than what I had previously done at UMBC, so I was constantly learning throughout my summer at GWU," said Kaitlyn. "I was very new to it all, especially in regards to conducting theoretical work." 
Kaitlyn encourages her fellow STEM students to feel empowered to take internship and apprenticeship positions, even if you don't have prior knowledge or experience in the specific field. 
"Even if you're pursuing a field that you have less experience in, it will still be an impactful and irreplaceable opportunity." " said Kaitlyn. "Even if you're hesitant about doing research, go for it – you will learn so much."
Looking forward, Kaitlyn is planning on attending graduate school and pursuing more research opportunities. To explore AEOP High School and Undergraduate Apprenticeship positions near you, visit our website.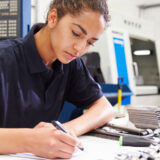 Undergraduate Apprenticeships
Undergraduate students have the unique opportunity to conduct real-world, U.S. Army-sponsored research alongside scientist and engineer mentors in world-class facilities at university labs or U.S. Army Research Laboratories and Centers.
More About Undergraduate Apprenticeships
Find a Volunteering Opportunity
Visit our Program Volunteers page for a tool to find the best opportunity for you.
eCYBERMISSION Grants
The eCYBERMISSION Mini-Grant is intended to support teachers/program leaders as they implement eCYBERMISSION with their teams. Educators (formal and informal) of students in grades 6-9 are encouraged to apply. Special consideration is given to Title 1 schools and to those with underserved/ under-represented populations.