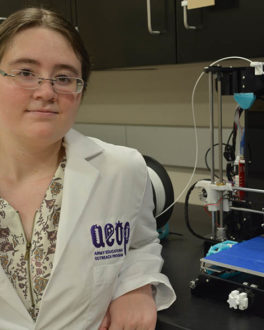 By Sara Munro, Communications & Public Relations, Academy of Applied Science
Assisted by Dani Mason, Public Relations Officer, South Dakota School of Mines and Technology
The Research and Engineering Apprenticeship Program (REAP) gives high school students hands-on experience in research labs at 41 universities across the country. Three South Dakota students were thrilled to dive into research this summer at South Dakota School of Mines & Technology (SD Mines).
Sponsored by the U.S. Army Education Outreach Program, SD Mines REAP apprentices worked alongside faculty and graduate students to research and develop: 3-D-printed rocket propellant; fusion bonds to make lighter, more fuel-efficient parts for the automotive and aerospace industries; and titanium biomedical implants that combat the body's rejection of foreign objects.
Each of these three student stories demonstrates the importance of collaboration within research teams. Students engaged in highly technical, exciting work and discovered how everyone, from apprentice to graduate student to principal investigator, plays a part in innovation.
Apprentice: Rebecca
During her SD Mines REAP experience, Stevens High School senior Rebecca Watts worked with her research team to 3-D print rocket propellant, looking at the burn characteristics, with the goal of eventually 3-D printing a rocket engine. Watts' research was co-sponsored by the SD Space Grant Consortium. "I really had no idea how incredible 3-D printing can be, how helpful it can be. I can 3-D print things that are almost impossible to weld or put together any other way, so it opens up a whole realm of possibilities in the future," Watts said.
Teamwork was instrumental. Watts joined the research team of Nicholas Ritchie, an industrial engineering sophomore; Sharla Glover, a mechanical engineering senior; Derek Neubert, a chemical engineering graduate student; and Lori Groven, Ph.D., a chemical and biological engineering assistant professor. Ultimately, the team wants to apply what they've discovered to 3-D print any object using energetic materials, which range from explosives and rocket fuels to gasoline and pyrotechnics.
Apprentice: Enrique
Central High School junior Enrique Mandas researched fusion bonding using a tool called an ultrasonic spot welder. This tool uses the energy from high-frequency vibrations to instantly fuse plastics together. The goal is to use this bonded plastic material, called polypropylene, to provide a lighter, more fuel-efficient alternative to the heavier metal parts currently used in? by? automotive and aerospace industries. Mandas focused specifically on optimizing the joining process of the plastic materials in order to create the strongest bond.
Mandas was struck by the power of a small task – welding plastics together – to transform two huge industries. "You become a changemaker once you become a scientist or engineer. You can discover something big that will change the world or something small that will change your life." Mandas worked with mentors Joseph Newkirk, a mechanical engineering graduate student, and Cassandra Degen, Ph.D., a mechanical engineering assistant professor.
Apprentice: Grayson
Sturgis High School senior Grayson Nelson worked to optimize orthopedic implants, such as those used in shoulder and knee replacements. The problem with implants is they have a large surface area and are under constant tension in the body. To combat this, SD Mines researchers created titanium oxide nanotubes, essentially titanium rust, to coat the implant, thereby decreasing the surface area under tension and allowing the implant to better integrate with the body.
Nelson took the research even further with Jevin Meyerink, a biomedical engineering graduate student, and Grant Crawford, Ph.D., associate professor in materials and metallurgical engineering. They added a fluorescent biological organism onto the nanotube in order to pinpoint the exact location of the tension. Then, they sent samples of their findings to South Dakota State University researchers, who inserted an antibiotic into the nanotubes to combat the body's rejection of the implant.
"[Previously], I did an internship at the VA Hospital, and I loved the medical aspect. But I also want to do research. At Mines, I integrated metallurgical, biological and chemical engineering, and now I want to get a biochemical degree and go into the medical field," Nelson said.
Click here for more photos of this year's SD Mines REAP students.
Get Involved in REAP
Across the United States, 118 high school students participated in REAP this year. Applications for students open in winter for summer placements. Learn more about REAP and the participating universities here. [link: REAP program page]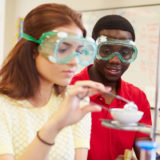 Research & Engineering Apprenticeship Program (REAP)
Research & Engineering Apprenticeship Program is a summer research apprenticeships at area colleges and universities for students historically underrepresented in STEM.
More About Research & Engineering Apprenticeship Program (REAP)
Find a Volunteering Opportunity
Visit our Program Volunteers page for a tool to find the best opportunity for you.
eCYBERMISSION Grants
The eCYBERMISSION Mini-Grant is intended to support teachers/program leaders as they implement eCYBERMISSION with their teams. Educators (formal and informal) of students in grades 6-9 are encouraged to apply. Special consideration is given to Title 1 schools and to those with underserved/ under-represented populations.