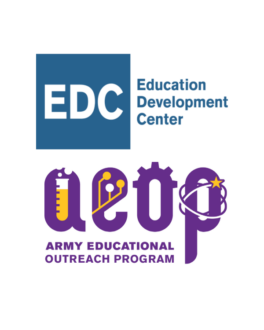 We are excited to announce that AEOP has chosen a new evaluation partner, the Education Development Center, Inc. (EDC)! As the external evaluator, EDC will work in partnership with AEOP to monitor progress towards our goals, document programs and their outcomes, and inform strategy and program development. The EDC team is committed to providing AEOP focused, thoughtful and useful information that will help us improve our programs and effectively reach more students. 
EDC is committed to designing, implementing, and evaluating programs to improve education, health, and economic opportunity worldwide, with a focus on vulnerable and underserved populations. This work is closely aligned with AEOP's mission to engage, inspire and attract the next generation of STEM talent. Together, we are working toward a future where all students are prepared to be part of a robust STEM economy and make significant contributions to improving people's lives worldwide.
The EDC team was drawn to AEOP not only by the mission, but its impact. 
"We are looking forward to partnering with a results and impact oriented organization," says Alyssa Na'im, EDC Research Scientist[ "Based on our early understanding of AEOP's impact beyond the numbers, we are seeing a depth of meaningful experiences for students and teachers which are translating into developing a robust STEM talent pipeline."
EDC brings extensive experience evaluating K-12 STEM education and workforce development, as well as leading complex multifaceted federal initiatives. EDC will leverage this expertise to support the AEOP consortium in its efforts to develop a diverse, highly skilled STEM workforce.
The EDC team is eager to help AEOP further its mission. 
"We are looking forward to our partnership with AEOP so we can build on what's working well and disseminate that story out into the world, while also finding those places where there may be opportunities to improve or grow further, says Ginger Fitzhugh, EDC research scientist.
Find a Volunteering Opportunity
Visit our Program Volunteers page for a tool to find the best opportunity for you.
eCYBERMISSION Grants
The eCYBERMISSION Mini-Grant is intended to support teachers/program leaders as they implement eCYBERMISSION with their teams. Educators (formal and informal) of students in grades 6-9 are encouraged to apply. Special consideration is given to Title 1 schools and to those with underserved/ under-represented populations.