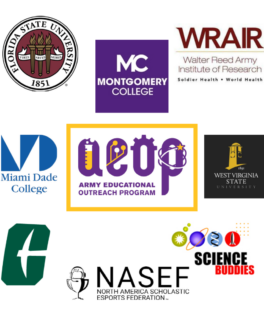 At AEOP, we are always looking for collaborative partners that will help our programs reach more students and further our mission to make STEM learning opportunities accessible to all students. We are excited to announce seven new strategic outreach initiative (SOI) partners who will be joining the AEOP community, including:
FSU – In their Black Men in Tech program, FSU will establish iHubs at four Title I schools in the area to expand their Unite program from a summer offering to a year-round program. The iHubs will be led by certified high school technology/STEM teachers at the sites, many of whom have been involved with Unite. At each iHub, the participating teachers will select a group of six Black male students to represent the school and to meet biweekly and work on projects in web design, videography, digital graphics and social media marketing, with the assistance of FSU undergraduate IT students. Black Men in Tech participants from each iHub will have the opportunity to meet monthly with mentors from several career sectors to receive leadership instruction via Zoom. 
Miami Dade College – Miami Dade College Homestead Campus will develop and host workshops to train their 30 Unite participants to become student facilitators for Junior Solar Sprint (JSS) Jumpstart, which serves 100 students from five local elementary schools. The project will keep Unite students engaged with AEOP and give them mentorship experience while also reaching more JSS students. 
Montgomery College (MC) and WRAIR – The partnership will orchestrate in-classroom (or virtual), hands-on science activities in high school science classrooms within Montgomery County Public Schools. These activities will be led by nine undergraduate near-peer mentors (NPMs) from Montgomery College. Working with teachers at the selected schools, WRAIR and MC will develop curriculum-matched science activities that best suit each classrooms' needs. 
NASEF – NASEF is partnering with AEOP to expand the reach of the JSS program and increase targeted student access and participation to JSS by providing a digital way to experience hands-on STEM learning. NASEF will co-design, develop, promote, and implement the project in partnership with AEOP and TSA. This new digital program will reach up to 1,800 students across the country and around the world on U.S. military bases. Utilizing Minecraft Education Edition, NASEF will plan, design and create a digital learning environment aligned with the JSS program requirements and parameters.
Science Buddies – To bolster JSS participation, Science Buddies is helping recruit 10-20 new teachers in rural and urban schools to participate in JSS. They are also working with AEOP to enhance the JSS curriculum materials to better support younger students and novice teachers.
UNC Charlotte – The Center for STEM Education at UNC Charlotte will expand their work with rural high school STEM teachers to help support student research. The project partners have established a high school North Carolina STEM Research Academy to increase the pipeline of diverse students engaged in STEM research in rural NC school districts. Experienced STEM educators and mentors will train participating teachers on student research best practices. The students involved will participate in seven Saturday Academies and will be mentored virtually throughout their research work. Saturday Academy topics include research question selection, experimentation or engineering design testing, data analysis, and STEM communication. All students will ultimately participate in eCYBERMISSION or NC Junior Science and Humanities Symposium (JSHS), either as an oral or poster presenter.
West Virginia State University – This new mentoring program will support 18 high school students in learning how to succeed in college and understanding what a STEM research career entails. The program will guide students through a series of mentoring, laboratory skill building and college preparation in the spring semester, followed by a five week summer immersion program in a research lab. At the end of the program, each of the students will have the opportunity to submit a free application to the West Virginia State University and will be provided with financial aid information.
Find a Volunteering Opportunity
Visit our Program Volunteers page for a tool to find the best opportunity for you.
eCYBERMISSION Grants
The eCYBERMISSION Mini-Grant is intended to support teachers/program leaders as they implement eCYBERMISSION with their teams. Educators (formal and informal) of students in grades 6-9 are encouraged to apply. Special consideration is given to Title 1 schools and to those with underserved/ under-represented populations.