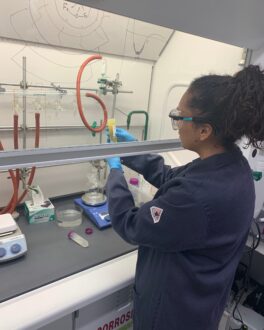 Our AEOP Apprenticeships are expanding! Starting this year,* AEOP will now offer fellowship opportunities for STEM graduate students, recent STEM master's graduates as well as individuals who have recently completed their Ph.D. in STEM. These opportunities will fall under the new AEOP Apprenticeships and Fellowships program. As an AEOP Fellow, you will have the unique opportunity to sharpen your skills and conduct cutting-edge research alongside STEM professionals from U.S. Army Research Laboratories and Centers across the country.
We know the future is bright for careers in STEM. STEM careers are projected to continue to grow at a faster rate than non-STEM careers in the next decade. The demand for a talented and skilled STEM workforce will only increase in coming years. By joining a team of U.S. Army researchers, AEOP Fellows can advance their career and education goals and contribute to the scientific discoveries and technologies that support America's innovation goals. Fellows will conduct real-world, U.S. Army research alongside scientists and engineers in world-class facilities.
An AEOP Fellowship will elevate your resume and grow your STEM experience, making you a competitive candidate in your future endeavors, no matter what your STEM goal. An AEOP Fellowship will:
Make YOU part of the STEM solution in our nation.
Give you real-world, U.S. Army research experience.
Connect you with a mentor and build your STEM network.
Prepare for the next step in your education or career.
Check out the new AEOP Apprenticeships and Fellowships webpage! Explore the variety of opportunities available for High School and Undergraduate students. Applications are open for High School and Undergraduate Apprenticeship.
If you are interested in becoming an AEOP Fellow, email AEOPapprenticeships@rit.edu or call 585-475-2566. We look forward to hearing from you!
*Please note applications are not currently being accepted. Stay up-to-date by checking back on the AEOP Apprenticeships & Fellowships webpage or follow AEOP Apprenticeships on Twitter, Facebook, LinkedIn or Instagram.
Find a Volunteering Opportunity
Visit our Program Volunteers page for a tool to find the best opportunity for you.
eCYBERMISSION Grants
The eCYBERMISSION Mini-Grant is intended to support teachers/program leaders as they implement eCYBERMISSION with their teams. Educators (formal and informal) of students in grades 6-9 are encouraged to apply. Special consideration is given to Title 1 schools and to those with underserved/ under-represented populations.