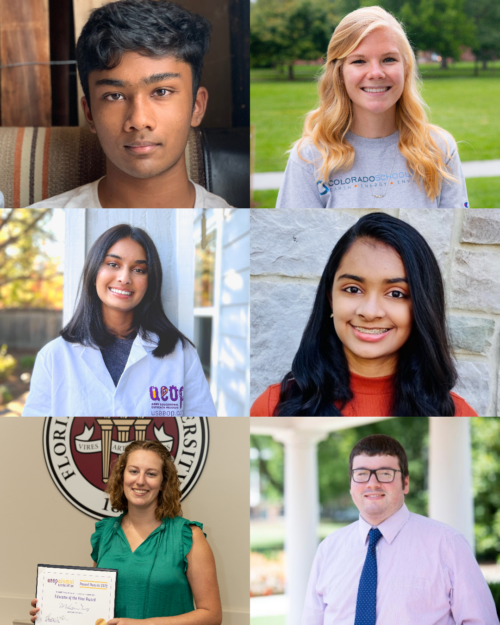 Each year, AEOP Membership celebrates a few standout alumni during the Annual AEOP Alumni Awards. The Alumni Awards give us an opportunity to highlight the outstanding achievements of our students, educators and mentors. This year, here are the six alumni who earned recognition for their work in AEOP and their communities. 
Rising Star Award – Iishaan Inabathini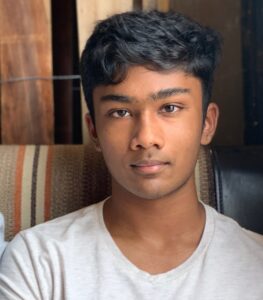 The Rising Star Award is given to a standout AEOP participant who completed their first year in AEOP as a student in 2021 or 2020. Nominees must demonstrate how their first experience in AEOP impacted their growth in STEM.
Iishaan is a sophomore at Reedy High School, in Texas. His AEOP experience started off in the 2020 eCYBERMISSION competition. As a 7th grader, it was his first real STEM experience and he saw how STEM could be used to solve problems in a community. Iishann and his team investigated the negative effects of stormwater runoff due to contamination with fertilizer. His team came in second place in Texas!
Having some competition experience under his belt, Iishaan returned in 2021. This time his team focused on studying how increased parental engagement can decrease teen substance abuse and came in first place in Texas and the South Central Region and finished as a national finalist. This year, Iishaan and his team worked on solving the loss of self esteem caused by selfies on social media platforms like Instagram, earning second place in Texas. 
"eCYBERMISSION was an amazing first experience in both STEM and problem solving," says Iishaan. "Studying problems the real teenagers deal with gave me the opportunity to learn so much from subject matter experts and helped guide the direction of my future interest in STEM."
Since he loved his eCYBERMISISION experience so much, Iishaan applied and was accepted to the 2022 Alumni Council. As a council member, he's had the chance to meet amazing people who have helped him improve skills that he'll need for the rest of his life. 
"Overall, I've had a great experience with AEOP, which has allowed me to grow as a person and shaped what I want to do with the rest of my life," said Iishaan.
Future Leader Award – Katie Schneider
The Future Leader Award is given to a standout AEOP participant who has used their AEOPexperience to hone their leadership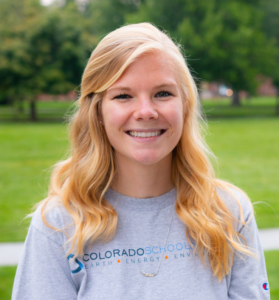 skills. Nominees must demonstrate how their AEOP experience led them to where they are now as a leader in STEM.
Katie Schneider competed in the Junior Science and Humanities Symposium (JSHS) in 2014 and 2015. After competing in JSHS twice, Katie still wanted to be involved with AEOP, so she joined the AEOP Alumni Council in 2017. While competing in JSHS, Katie discovered a love for physics and science communication. She went on to earn a B.S. in Engineering Physics (2019) and an M.S. in Mechanical Engineering (2020) from Colorado School of Mines. Now, Katie works as a patent engineer at Holland & Hart, where she helps clients build patent portfolios and intellectual property protection strategies. Katie also plans to attend law school starting in the fall of 2023 to further her career in patent law. 
Community Service Award – Preetal Deshpande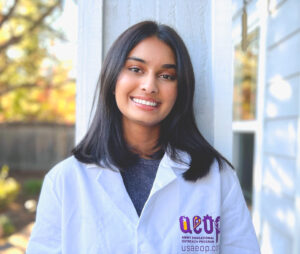 The Community Service Award is given to a standout AEOP participant who has used their knowledge and experience in AEOP to give back to their community. Nominees must demonstrate a significant effort to improve his/her community through their experience in AEOP. 
Preetal Deshpande, a high school student at Monta Vista High School in California, served as an AEOP High School apprentice at the University of Nevada's computer engineering lab. She worked with Ph.D. students to detect head concussions using Virtual Reality (VR) and Artificial Intelligence (AI). This experience allowed her to understand how cutting-edge technologies help doctors improve diagnoses and treat patients. She is an aspiring biomedical engineer who wants to create solutions to continuing worldwide health issues. She is grateful to AEOP for helping her discover her newfound passion and future career.
Preetal spent over 500 hours volunteering at two non-profit organizations teaching coding to underprivileged kids. Preetal is now committed to making a difference in her community through her own organization, "STEM Mantra". Her mission is to encourage and motivate young girls to choose STEM careers. Through her organization, she teaches and mentors youth about various applications of technology and guides them to solve problems all around us. After her AEOP apprenticeship, she was inspired to share her knowledge and decided to host virtual workshops where she introduced the basics of Python, Artificial Intelligence, and the role of Python in AI algorithms and data cleaning. Through these activities, Preetal actively pursues her dreams of closing the community's STEM education gap.
Renaissance Award – Kavya Venkatesan
The AEOP Alumni Association Renaissance Award is given to an AEOP participant who has successfully completed two or more unique AEOP Programs during or prior to 2021.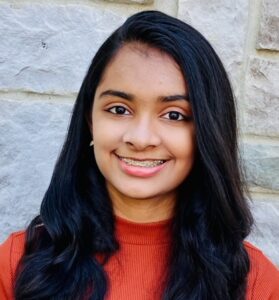 Kavya is a researcher, STEM enthusiast and high school sophomore. She has been deeply involved in AEOP through Junior Science and Humanities Symposium and eCYBERMISSION. These experiences have heightened her confidence and passion for solving community problems through STEM. Kavya also actively mentors younger students by serving as a Counselor and Leader-In-Training at her local AEOP Camp Invention site. Through this experience, she organized workshops and hands-on activities that introduce elementary students to the career pathways in STEM. Overall, her AEOP experience has motivated her to continue applying and sharing her knowledge. Currently, Kavya is working as a research intern for the Federal Aviation Administration.
Educator of the Year Award – Melissa Davis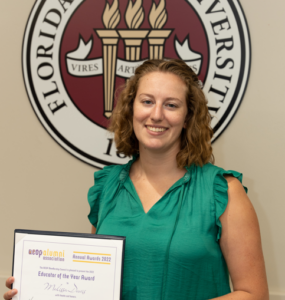 The AEOP Alumni Association Educator of the Year Award is given to a teacher participant in AEOP (e.g., either as a participant in RESET, as a resource teacher for AEOP, or in another educator capacity) who can demonstrate how AEOP helped them grow as an educator. 
Melissa Davis is a PhD candidate at Florida State University majoring in Industrial Engineering. She has been involved in STEM outreach for nearly 10 years and has worked closely with AEOP's Unite program for the past four years. Her past AEOP workshop projects have included animatronics, robotic cars, and Arduino controlled useless box. Her research focuses on making a novel new solar cell material flexible. Melissa attended George Mason University for an undergraduate degree in Electrical Engineering.
Mentor of the Year Award – Jonathan White
The AEOP Alumni Association Mentor of the Year Award is given to a mentor from one of the various apprenticeship programs within AEOP. Nominees must demonstrate how participating as a mentor impacted the nominee's personal growth in STEM and how AEOP provided a unique learning opportunity for the apprentice.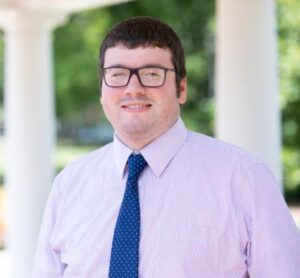 Jonathan White completed his undergraduate degree (B.S. Chemistry) at George Fox University (Newberg, OR) in 2010, then went on to complete his Ph.D. in chemistry at the University of Oregon (Eugene, OR) in 2015. There, he studied platinum-based anticancer drugs. After this, he studied cancer metabolism in the post-doc at Oregon Health & Science University (Portland, OR). In those roles, he enjoyed mentoring other undergraduates on my projects.
After coming to Longwood University in 2018, he began his research program studying platinum drugs and cancer metabolism. That's when he worked with his first AEOP apprentice, Abriel Johnson, working to synthesize new biologically-active platinum drugs. Jonathan then became the co-director of the apprenticeship program. Last year, he worked with Dima Hamza to characterize their reactivity towards biological targets such as DNA. This year, Dima has returned and is testing the compounds in yeast cell culture. Together, they are looking forward to characterizing the compounds in a cancer cell culture soon. Jonathan has immensely enjoyed partnering with his AEOP apprentices, and has been impressed by their work and everything they are able to learn through opportunities provided by the program.
If you missed the awards show, you can stream it here on the AEOP Membership YouTube channel. Don't forget to subscribe so you can stay up to date on all the latest content, including new Profiles in STEM videos.
Find a Volunteering Opportunity
Visit our Program Volunteers page for a tool to find the best opportunity for you.
eCYBERMISSION Grants
The eCYBERMISSION Mini-Grant is intended to support teachers/program leaders as they implement eCYBERMISSION with their teams. Educators (formal and informal) of students in grades 6-9 are encouraged to apply. Special consideration is given to Title 1 schools and to those with underserved/ under-represented populations.