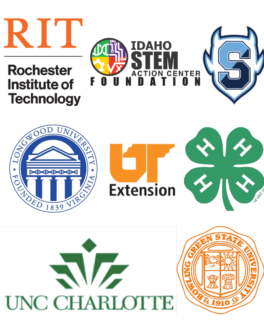 COLUMBUS, OHIO [May 17, 2019]: The U.S. Army Educational Outreach Program (AEOP), in collaboration with Battelle and partners, has awarded grants to seven organizations and technical associations to continue expanding student participation in enriching science, technology, engineering and math (STEM) exploration and learning, particularly for underserved students. AEOP offers students across the country, from elementary school through undergraduate education, and educators collaborative, high-quality U.S. Army-sponsored programs that engage, inspire and attract the next generation of STEM talent.
AEOP's diverse program offerings provide students representing all proficiency levels and ethnic, economic and academic backgrounds with the opportunity to participate in real-world experiences involving STEM disciplines. Across AEOP programs, U.S. Army civilian scientists and engineers serve as guides, bringing young people into U.S. Army and university laboratories, introducing them to the various opportunities the STEM fields offer through hands-on experiences.
The Strategic Outreach Initiative grants engage a network of partners to expand student participation in STEM. AEOP's latest cohort of partners – five new and two renewed, following an existing partnership – were chosen for their leadership in STEM learning and their outreach to African-American, Hispanic, female, low-income and military-connected students.
"The success of STEM fields in the next generation relies on our ability to reach out and bring in new, diverse young innovators from across the country," said Aimee Kennedy, Senior Vice-President of Education and Philanthropy at Battelle. "The strategic partners joining us will empower students of all ages to think creatively and work together to solve some of the nation's toughest problems."
Strategic Outreach Initiative grantees will each receive awards ranging from to facilitate collaboration that will integrate with or enhance the suite of opportunities already offered by AEOP. Grants will be awarded on a rolling basis. Recipients include:
Rochester Institute of Technology [Rochester, New York]: The Rochester Institute of Technology (RIT) will work with the RIT Science & Technology Entry Program – a state-funded initiative that aims to support middle school and high school youth in the pursuit of careers in STEM – to increase the number of participants in eCYBERMISSION and Junior Science and Humanities Symposium. RIT will host an "Introduction to Research" summer day camp, an eCYBERMISSION kick-off event at RIT and an eCYBERMISSION-themed campus K12 visits to RIT.
Idaho STEM Action Center Foundation [Boise, Idaho]: This partnership will increase Idaho student and educator participation in eCYBERMISSION, providing students with channels through which to pursue scientific inquiry and engineering design. The Idaho STEM Action Center Foundation will conduct a statewide campaign to raise awareness about the STEM competition, support new advisers through a professional development workshop on scientific inquiry and the engineering design process, provide adviser stipends and grants to teams for materials and travel, and host regional showcase events for teams to share projects with peers.
Springbrook High School [Colesville, Maryland]: Springbrook High School will identify students with a strong commitment to testing their research abilities, pairing them with mentors who can foster their love of STEM and their understanding of the research process. The program will be open to 10th through 12th-grade students, who will commit to weekly meetings, maintaining a relationship with their mentor and conducting research that will then be submitted in the Junior Science and Humanities Symposium competition. The selected students will meet for four hours a week in the school lab space, during which time they will develop their project and conduct their research. Teachers will support project design and student research, help coordinate mentors, provide instructional resources and monitor student progress.
Longwood University [Farmville, Virginia]: Longwood University is serving as a host site for the Research and Engineering Apprenticeship Program (REAP) for the first time during the summer of 2019, as part of the newly formed Longwood Summer Scholars: Exploring Science program. This project will increase the visibility of, interest in and applications for the Longwood Summer Scholars program through increased outreach and advertising. The funding will also aid the regional Junior Science and Humanities Symposium (JSHS), hosted at James Madison University each spring. Longwood University will work with the Prince Edward County Environmental Molecular Biology Institute to allow more high school students to participate in the competition.
Williamson County 4-H and University of Tennessee Extension [, Tennessee]: The 4-H National Council reports that 27 percent of Agriculture jobs in the next five years will require STEM related skills. Given this shift, the 4-H Organization intends to add Junior Solar Sprint to the group's existing portfolio of STEM classes being offered to youth in Williamson County, in order to encourage more area youth toward STEM careers. Junior Solar Sprint will be added to an already strong portfolio of courses, including Engineering Fundamentals and 3D printing classes.
Center for STEM Education, Cato College of Education, UNC Charlotte [Charlotte, North Carolina]: This project, entering its year, is designed to increase the pipeline of diverse students engaged in STEM research in rural North Carolina school districts. This year's funding will scale this preexisting project to increase student and teacher participation in eastern and western North Carolina. Master educators with a track record of increasing and sustaining student research will again lead North Carolina early college and traditional high school teachers in a two-day teacher academy focused on student research best practices. Teachers from 20 schools will ultimately recruit up to 80 students to undertake STEM research or engineering design projects and will ultimately participate in Junior Science and Humanities Symposium. Ninth grade participants will also participate in eCYBERMISSION.
Northwest Ohio Center for Excellence in STEM Education at BGSU [Bowling Green, Ohio]: As this partnership enters its third year, the Northwest Ohio Center for Excellence in STEM Education (NWO) intends to refine and optimize the group's preexisting model for increasing participation of underrepresented students in JSHS. NWO will train all students and teachers in order to engage students in original scientific research, STEM studies and exposure to STEM careers. This refined model is designed to increase participation beyond the project funding and intends to embed research expectations as part of a formal course for all students at the Aerospace and Natural Science and Technology Center of Toledo, where much of the funding will be directed.
About AEOP: The U.S. Army Educational Outreach Program (AEOP) is comprised of U.S. Army-sponsored research, education, competitions, internships and practical experiences designed to engage and guide students and teachers in science, technology, engineering and mathematics (STEM). From elementary school through graduate school, students at all levels, interests, ethnic, economic and academic backgrounds are encouraged to participate in hands-on programs in STEM disciplines. More information is available at: www.usaeop.com.
Find a Volunteering Opportunity
Visit our Program Volunteers page for a tool to find the best opportunity for you.
eCYBERMISSION Grants
The eCYBERMISSION Mini-Grant is intended to support teachers/program leaders as they implement eCYBERMISSION with their teams. Educators (formal and informal) of students in grades 6-9 are encouraged to apply. Special consideration is given to Title 1 schools and to those with underserved/ under-represented populations.