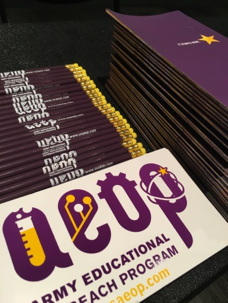 AEOP was pleased to attend the National Association for College Admission Counseling STEM College and Career Fair in New York City on Sunday, Oct. 15. NACAC STEM College and Career Fairs expose high school students to higher education institutions and careers that offer opportunities in science, technology, engineering and math.
AEOP representatives spoke with high school students from New York and surrounding states about apprenticeships and programs, and handed out some exciting goodies (pictured above). We also had the chance to meet AEOP alumni, who shared how valuable their AEOP experiences were in their paths to college and the workplace.
If you missed the fair, not to worry; you can still learn about and register for our 2017 to 2018 programs here. Also, check out upcoming NACAC STEM Fairs here.
Find a Volunteering Opportunity
Visit our Program Volunteers page for a tool to find the best opportunity for you.
eCYBERMISSION Grants
The eCYBERMISSION Mini-Grant is intended to support teachers/program leaders as they implement eCYBERMISSION with their teams. Educators (formal and informal) of students in grades 6-9 are encouraged to apply. Special consideration is given to Title 1 schools and to those with underserved/ under-represented populations.