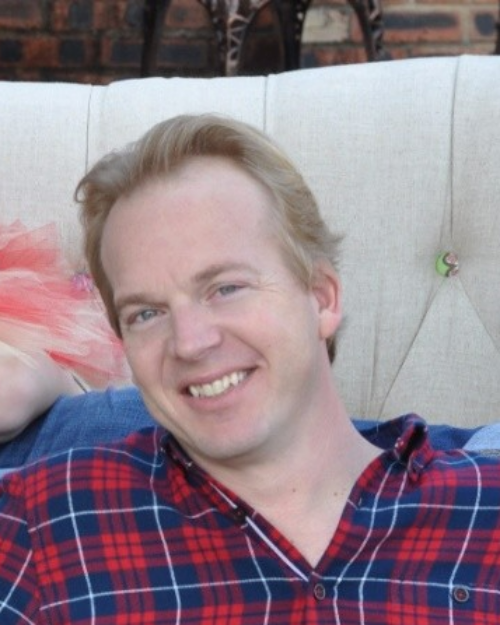 As we enter fall and kick off a new school year, it's time for eCBYERMISSION registration! When it comes to eCYBERMISSION, our competition would not be possible without the hard work and dedication of our Team Advisors, who are often teachers. Across the country, teachers have integrated eCYBERMISSION into their curriculum to challenge their students to think critically and explore an issue facing their community. 
Over the last few years, Mr. Dru Galer, a 6th-grade teacher at Fort Worth Independent School District, has led over 500 students through eCYBERMISSION! Mr. Galer is also a three-time recipient of the eCYBERMISSION Mini-Grant. The Mini-Grant program provides funding to support teachers and program leaders as they implement eCYBERMISSION in their classrooms, schools, or other organizations. For many Team Advisors like Mr. Galer, the Mini-Grant makes bringing eCYBERMISSION to their students possible. 
We spoke with Mr. Galer about why he keeps bringing eCYBERMISSION to his classroom year after year; and here's what he had to say.
Why did you choose to bring eCYBERMISSON into your classroom?
I am a public school teacher. And, even though I teach at one of the largest urban school districts in the country, there aren't many opportunities for our students to participate in online STEM programs and competitions that reward their efforts and hard work. It is quite impressive to see how students design and implement projects to address real-life problems; especially, because it allows us, teachers, to gain a better understanding of each student and how they view the world. 
Through eCYBERMISSION, students have the opportunity to address problems in their communities and witness how their ideas come to life and bring about change. As an educator, I have been able to dive deeper into my passion for STEM while also bringing my students along for the ride.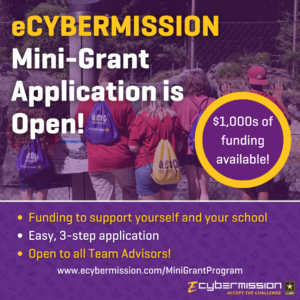 How has the Mini-Grant Program supported you as a Team Advisor? 
The Mini-Grant program provides funding and support for teachers and program leaders, like me, to give us the flexibility to purchase supplies, such as 3D printers, that enrich our student's STEM curricula and overall educational experience. Through this grant, we can successfully bring eCYBERMISSION to our classrooms and secure supplies we would not have access to otherwise. 
What have you learned after participating in eCYBERMISSION? 
Just like science, it has been a trial and error process. In our first year, we wanted to go big and sought to design and implement massive projects. During our second year, we changed our approach and thought it would be best to focus on projects we could measure that would have an impact on our community. By our third year, we clearly understood the assignment and managed to create a long-term project that 6th graders would be able to care for and sustain beyond the competition. The hands-on format is fun and exciting and it keeps my students engaged in their learning, which is the most important part of this experience. 
What is the best advice you could give to another teacher interested in applying for an eCBYERMISSION Mini-Grant? 
While the program is not easy and requires dedication; it is extremely rewarding for everyone involved. If you have the opportunity to apply for this Mini-Grant, do it! My students have a great time throughout the process – they learn about STEM, their communities, and the value of teamwork. Afterward, my students are genuinely gratified once they complete their projects and see their results firsthand. 
As an educator, not only do we get to see our students grow academically and personally, but we are also able to offer them better resources and supplies to enhance their academic experience with support from the Mini-Grant. For me, the Mini-Grant opened up the possibility of bringing eCBYERMISSION into my classroom, and I hope to continue to participate for years to come. If you're looking to bring something hands-on and different into your classroom but are wondering where to find the resources, the Mini-Grant is for you.
What's one of your favorite takeaways from your experience?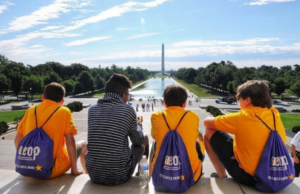 It's seeing students interact with each other. This program forces them to grow and learn about themselves in ways that other classroom activities are not always able to do. It is a process of self-reflection and self-evaluation; you can see how much students grow throughout this experience while they learn about collaboration, timeliness, and teamwork. 
I also enjoyed learning how my students view themselves. My students had to represent themselves in writing and, unlike an oral speech, they had to use written words to introduce themselves to the judges when they submitted their project. This offered me another opportunity to learn more about my students, and that is always something teachers are eager to discover.
About Mini-Grant Program 
The eCYBERMISSION Mini-Grant program provides funding to support teachers and program leaders as they implement eCYBERMISSION in their classrooms, schools, or other organizations. The program is open to everyone. However, Title 1 schools and those working with underserved students are given special consideration. Teachers do not need to commit to participating as an eCYBERMISSION Team Advisor or know exact student registration numbers to apply. For more information on program requirements and eligibility, visit: www.ecybermission.com/MiniGrantProgram
Find a Volunteering Opportunity
Visit our Program Volunteers page for a tool to find the best opportunity for you.
eCYBERMISSION Grants
The eCYBERMISSION Mini-Grant is intended to support teachers/program leaders as they implement eCYBERMISSION with their teams. Educators (formal and informal) of students in grades 6-9 are encouraged to apply. Special consideration is given to Title 1 schools and to those with underserved/ under-represented populations.