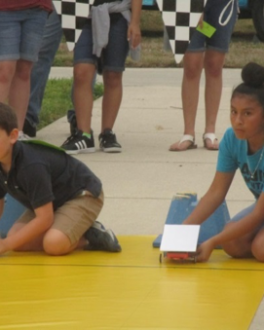 On your marks! Due to overcast skies, JSS teams cover their solar panels and race their JSS vehicles using battery power at EnergyWhiz.
Find a Volunteering Opportunity
Visit our Program Volunteers page for a tool to find the best opportunity for you.
eCYBERMISSION Grants
The eCYBERMISSION Mini-Grant is intended to support teachers/program leaders as they implement eCYBERMISSION with their teams. Educators (formal and informal) of students in grades 6-9 are encouraged to apply. Special consideration is given to Title 1 schools and to those with underserved/ under-represented populations.
Latest AEOP News
Empowering Young Scientists: Laura Stary and the eCYBERMISSION Journey, September 26, 2023