PROGRAM OVERVIEW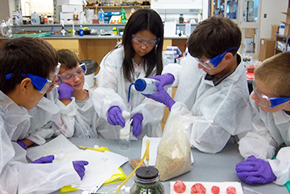 The GEMS programs at White Sands Missile Range (WSMR), New Mexico are a joint/collaborative effort between the U.S. Army Research Laboratory (ARL) and the U.S. Army Test & Evaluation Command (ATEC).  ARL's mission is to ensure that U.S. military personnel and equipment survive and function effectively in hostile circumstances. ATEC's mission is to provide the U.S. Army, Navy, Air Force, Department of Defense, and other customers with high-quality resources and services for experimentation, test, research, assessment, development, and training in support of the Nation at war.  ARL & ATEC both employ many engineers, scientists, physicists and military personnel to accomplish their missions.  These same employees coordinate and conduct our GEMS programs.
GEMS I is the White Sands Missile Range program which provides grades 6 through 8 students with a wide variety of hands-on modules, demonstrations, experiments and tours. Students selected for the program will experience exciting STEM related activities on one of the largest, most dynamic military test ranges in the world; this is a great opportunity for those students interested in exploring science and engineering.
GEMS II is an ARL High School program consisting of a series of engaging, hands-on modules.  Students selected for the GEMS II program will experience a week of interesting STEM-related activities (robotics, rocketry, computer science, lasers, and more) inside a world class military laboratory.   ARL's laboratories and facilities are not open to the public; this is an excellent opportunity for high school students, as they prepare to make important career and college major plans/decisions.
2018 Important Dates:
Resource Teacher (RT) Application Period: 15 December – 31 January 2018
Near Pear Mentor (NPM)and Student Application Period: 1 January – 30 April 2018
2018 Dates

GEMS Level

Program Description

Fall 2018 Student Grade Level

June 11-15

July 23-27

8:00 am – 4:15 pm

GEMS I
Various topics include: Soldier day, Robotics, Electronics, Rocketry, 3-D Printing, Micro controllers, FM Transmitters, Cyber, Weather, and more!
6-8
2018 GEMS I Application
July 16-20

8:00 am – 4:15 pm

GEMS II
Various topics include: Soldier day, Robotics, Electronics, Rocketry, 3-D Printing, Micro controllers, FM Transmitters, Cyber, Weather, and more!
9-12
2018 GEMS II Application