Program Overview:


eCYBERMISSION is a web-based science, technology, engineering and mathematics (STEM) competition free to students in grades six through nine that promotes self-discovery and enables all students to recognize the real-life applications of STEM. Teams of three or four students are instructed to ask questions (for science) or define problems (for engineering), and then construct explanations (for science) or design solutions (for engineering) based on identified problems in their community. Students compete for State, Regional and National Awards.
Visit http://www.ecybermission.com/ to learn more about how to get involved with eCYBERMISSION.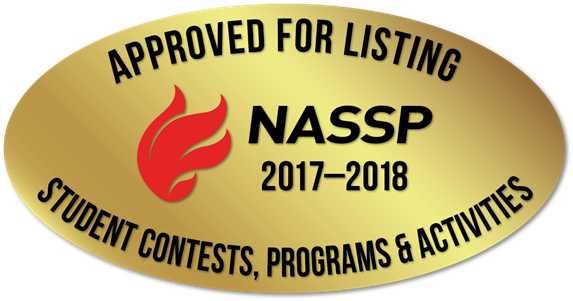 The National Association of Secondary School Principals has placed this program on the 2017-18 NASSP List of Approved Contests, Programs, and Activities for Students.
eCYBERMISSION 2017-2018 Competition Calendar:
First week of August, 2017:
Student and Team Advisor registration OPENS!

Ambassador registration OPENS!

CyberGuide registration OPENS!

Virtual Judge registration OPENS!

November 8, 2017:
Early registration ends (deadline to receive free STEM kite)
December 13, 2017:
Student and Team Advisor registration ends
February 28, 2018:
CyberGuide's last day online

Virtual Judge Registration ends

Cyberguide registration ends

Final day to submit Mission Folders

March 14-30, 2018:
Virtual Judging
April 9, 2018:
Potential State Winners and Regional Finalists contacted for validation
April 13, 2018:
Potential winners' validation forms due
April 16-20, 2018:
Equipment testing for Regional Judging video conference
Early May, 2018:
State Winners, Regional Finalists, and National Finalists announced!
End of June, 2018:
National Judging & Educational Event!
"The whole eCYBERMISSION experience truly changed my life for the better. It teaches you about hard work and teamwork. eCYBERMISSION gave me an opportunity to think about real-life issues and situations and create possible solutions or options for the better." ~ eCYBERMISSION Student
To receive updates about this and other AEOP programs, sign up here.
Contact:
Phone: 1-866-GO-CYBER (462-9237)