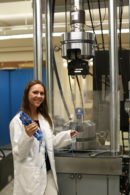 The rates of STEM graduates are not keeping up with the amount of job openings in related fields. In response, the Army Educational Outreach Program leverages their civilian scientists, engineers and laboratories in the hope of instilling STEM literacy in students and introducing students to potential STEM tracks inside and outside of the Army. Working in Army labs across the country, high school students participate in the Science and Engineering Apprenticeship Program (SEAP). SEAP students conduct their research on base at eleven Army labs in five states, getting the unique opportunity to work directly with DoD scientists and engineers. This is a rare opportunity for high school students to dive into meaningful research and reflect on the breadth and depth of STEM careers.
Teamwork is key in SEAP as students and mentors work side-by-side. Apprentices learn more than lab techniques and procedures; they learn how colleagues collaborate, how to apply their education and how to tackle the daily expectations of research projects.
Learning the ebb and flow of "lab life" is an essential component to considering a STEM career – which is precisely why SEAP is a 7-8 week, full immersion experience. Students see how concepts they learned in classrooms are applied to real world applications. Mentors not only demonstrate research practices, they show how they put into practice their diverse education and passions for science, technology and engineering.
Apprentices overwhelmingly remark how SEAP has given them more confidence in their STEM knowledge, skills and abilities.
SEAP by the Numbers: Snapshot of Summer 2017
4% are more confident in their STEM knowledge, skills and abilities
2% are more interested in participating in other Army Educational Outreach Programs (AEOP)
6% are more aware of Army of DoD STEM research and careers
4% have a greater appreciation of Army and DoD research
Look forward to summer 2018 now! SEAP applications – as well as applications for other AEOP Apprenticeship Programs – are open. Deadline for applying is February 28, 2018.
Learn more about SEAP and our other apprenticeship programs