PROGRAM OVERVIEW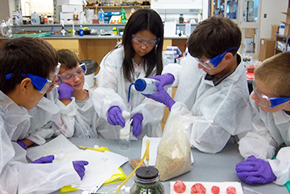 The GEMS Program at the Army Research Laboratory (ARL) in Adelphi, MD, provides middle school and high school students with the opportunity to explore new concepts and activities related to Science, Technology, Engineering, and Math (STEM) subjects. Participants interact with scientists, engineers, and researchers to examine thought-provoking topics.
GEMS I Overview: Students will explore a variety of STEM topics during a one week session.  Topics include electronic devises, robotics, reusable energy, atmospheric science, and 3D printing technology.  The curriculum will consist of engaging project demonstrations, tours, and hands-on laboratory experiments.
GEMS II Overview: Students accepted into the GEMS II Program will investigate STEM topics during a one-week session. Students will utilize the Engineering Design Method to create group projects and demonstrate research skills. Projects highlight engineering and computational science.
2017 Important Dates:
Applications Open (February 1)
Applications Close (April 9)
GEMS Level

2017 Dates

GEMS I

June 26-30
July 10-14
July 17-21
July 24-28

6-8
GEMS II

July 31 – August 4
August 7-11

9-10